Hawai'i Executive Conference
2018-Present
Redefining the swell of Hawaii's soul to discover and address our greatest challenges.
The Challenge
The Hawaii Executive Conference (HEC), Hawaii's premier leadership event, is an annual multi-day conference that brings global leaders together to discuss the future of the state. After a change in leadership , HEC needed more than just a logo.
Our mission was and remains to provide the creative support from strategy to event execution while maintaining the integrity of the HEC brand.
The Outcome
When aio founder Duane Kurisu assumed control of the conference in 2018, he made significant changes to ensure the conference was bringing the right people together for the correct reasons. His goal? To lead and inspire with Hawaii's soul. Library Creative was brought in to lead the conference's creative effort, which ranged from printed collateral to digital presence to onsite logistics and decor support.






The Journey
In 2018, we rebuilt the conference brand from the ground up. What had once been an event- and venue-focused identity transformed into a mission- and vision-driven effort. The focus shifted from speakers and panels to creating lasting collaborations and sharing inspiration among attendees, whose leadership provides the metaphorical winds on which to sail. By developing an inward-focused brand, we were able to create room for conversation, allowing the conference to return to its roots.
A Brand New Vision
The brand we developed centered around the Native Hawaiian concept of the huaka'i (journey). All colors, motifs, and ancillary design elements reflect the notion of a team sailing from the night toward a new sunrise. The lauhala pattern enforces the narrative of collaboration and strength through unity.
Forward Progress
2019 brought a renewed excitement to the Hawaii Executive Conference. Built upon the ideas gleaned from the previous year's conference, this year's brand needed to project a sense of energy, growth, and forward movement. The brand was built around the Hawaiian 'ulu (breadfruit), known for its versatility and ability to grow in rough conditions. We paired this motif with bright sunrise colors, allowing for dynamic visuals and renewed positivity.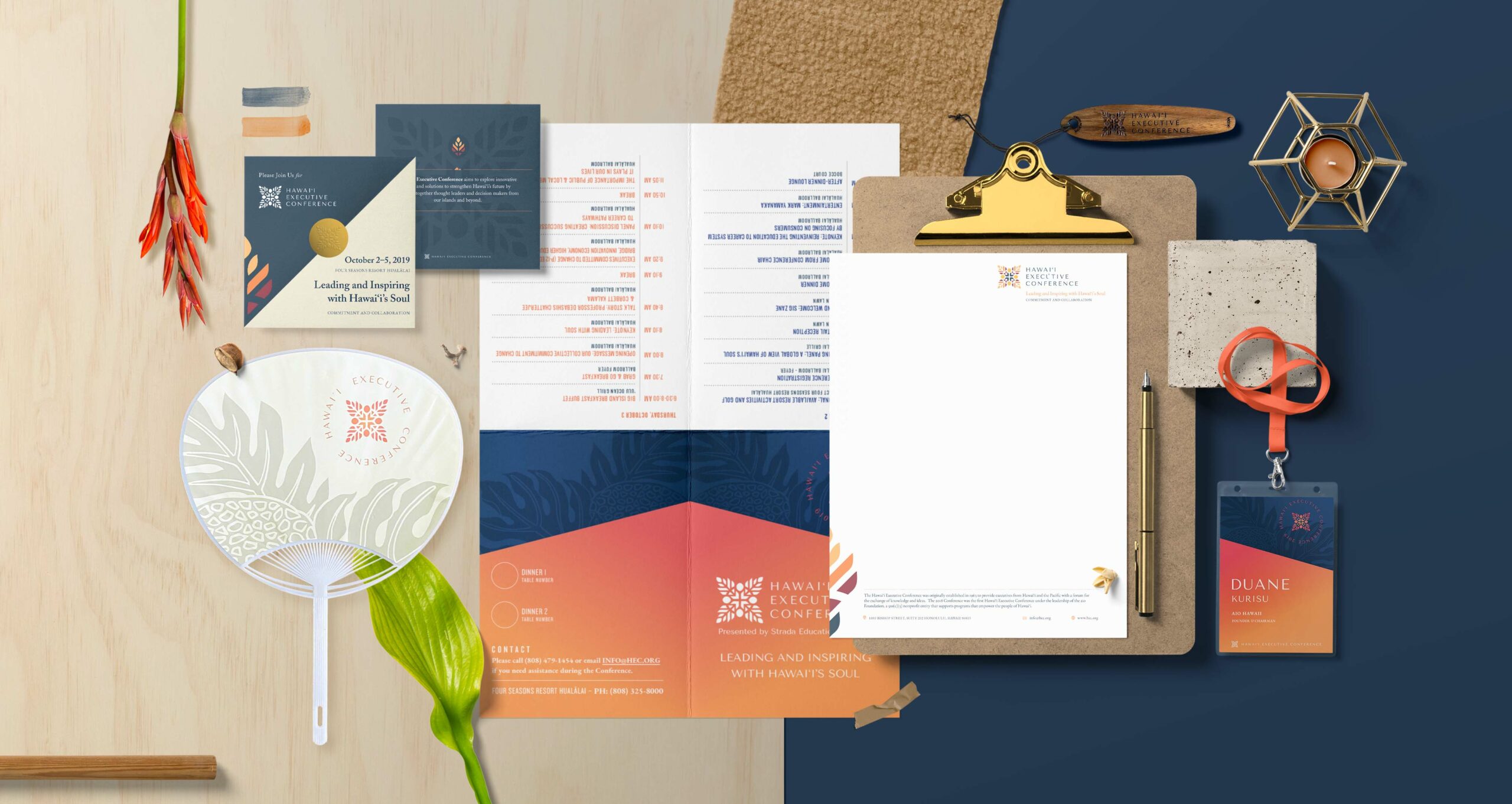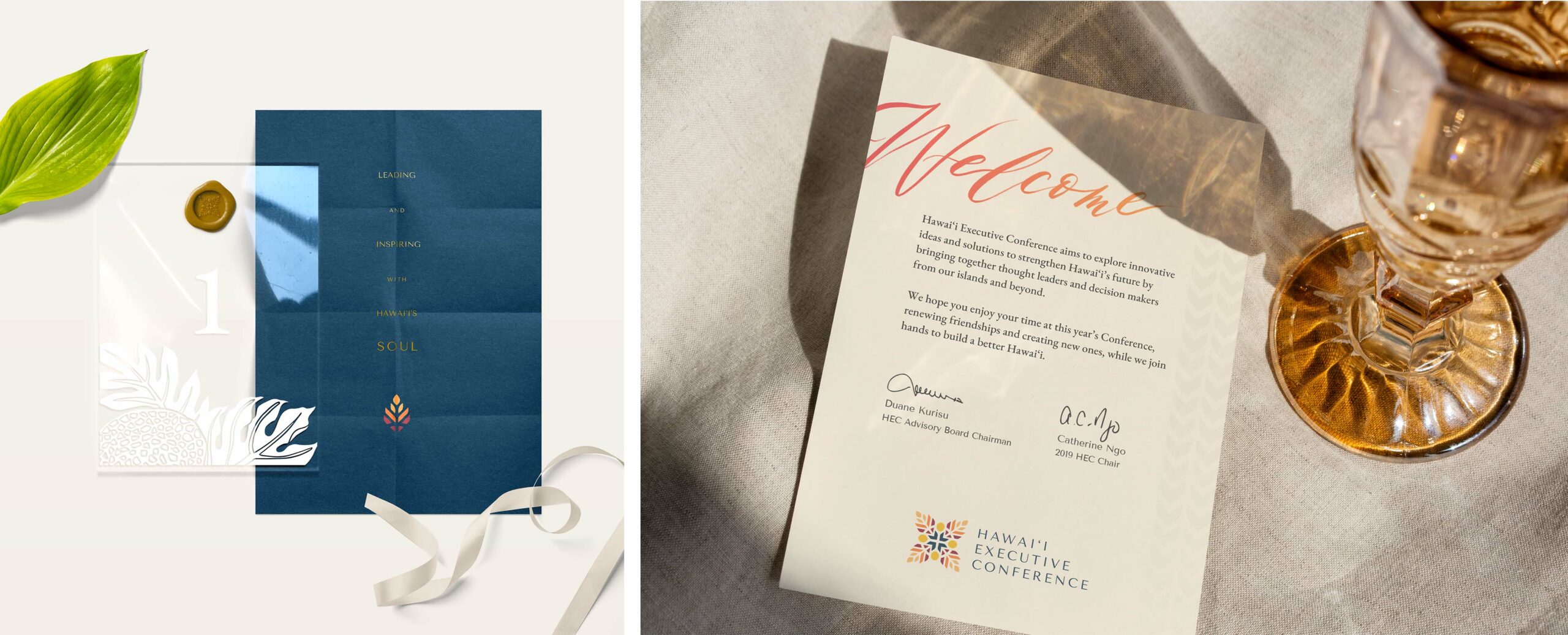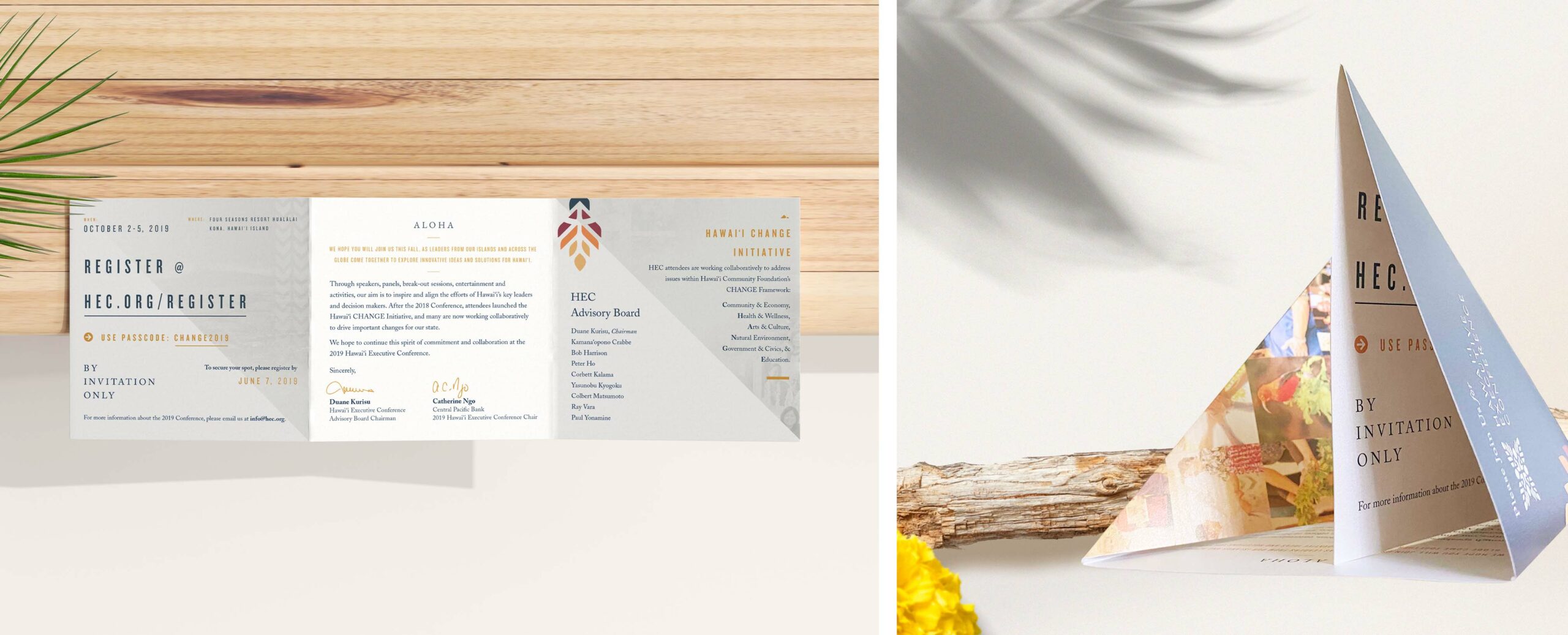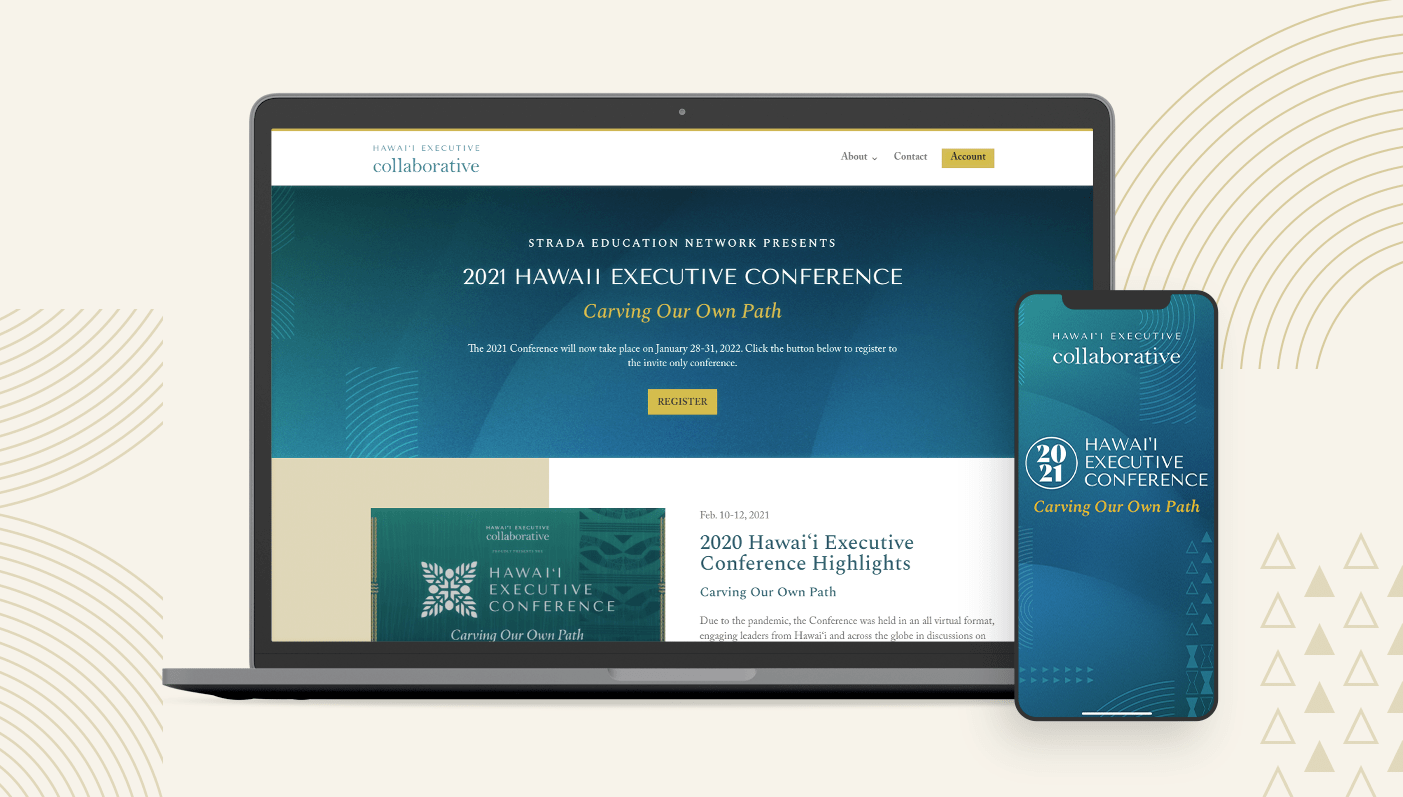 Challenging Times Ahead
The COVID-19 pandemic brought unprecedented challenges to Hawaiʻi and forced leadership to step up and responsibly navigate the crises within their companies. Not wanting to let the momentum from past conferences fade, a decision was made to take the 2020 and 2021 conferences virtual. We were able to apply the HEC (now referred to as the Hawaii Executive Collaborative) brand digitally and successfully transition a previously fully physical conference completely online.
2022 brings our conferees back together physically, and we are excited to rejuvenate the Hawaii Executive Conference and return to the attendees the will and ability to move Hawaiʻi forward.